Brussels city centre, Source: TheMayor.EU
No drinking of alcohol in pedestrian zones of Brussels as of today
The ban applies to the public areas between midnight and 6 in the morning
As of today, 1st February, drinking alcohol in the public spaces belonging to the pedestrian zone of Brussels is prohibited throughout the night. In effect between midnight and 6 a.m. the ban will be enforced for six months - until the beginning of August 2020. After this initial period, the measure will be subjected to evaluation, announced the local authorities.
Fines of up to 350 euro
The consumption of alcohol in the specified zone in the city centre will be legal only on terraces having a license and at commercial, festive or sporting events authorized or organized by the City of Brussels. Failure to obey the new rules is punishable with a fine of up to 350 euro and confiscation of the drinks, reminds the municipality of Brussels.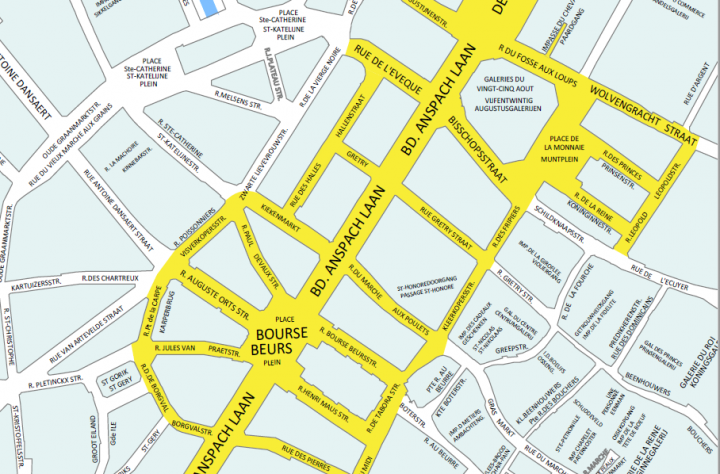 A map of the alcohol-free zone in Brussels. Source: Bruxelles.be
The measure was approved by the City Council of Brussels early in December last year. It takes into account recent police reports and numerous complaints from residents about noise pollution, menaces to public security and inappropriate behaviour towards residents or passers-by, to name but a few.
The registered cases are generally related to alcohol consumption and mostly happen in this period of the night, reads the municipal website.
Balancing between living and leisure
As a popular tourist destination, which also boasts a large student community, the capital of Belgium has a particularly vibrant night life. This is much to the disappointment of the locals, of course, especially those living in the city centre.
Here is why Brussels makes gradual steps in regulating the process and balancing between the interests of inhabitants and the tourism industry. As we wrote earlier, in May 2019 Brussels Region and Brussels City together with partners developed a Nightlife charter which defines a framework for activities during the night with regards to life quality in the neighbourhood, prevention and security of citizens.
The document is open for the owners of the 1800 existing bars, cafes and restaurants on Brussels' territory to sign and adhere to its principles.