Warsaw
Open-source software to support low-carbon district energy network planning
The complex planning processes can be challenging in terms of staff capacities and expertise
With an ambitious EU Green Deal on the table, providing secure, affordable and low carbon energy stays high on the priority list of local authorities to increase air quality and reach their energy and climate targets in 2030 and establish new ones by 2050. With heating and cooling (H&C) responsible for 50% of the final energy demand in Europe, decarbonisation of the sector will be crucial to reach those targets.
According to the latest study on the 14 European countries with the highest H&C demands, district energy can play a leading role in the energy transition and for achieving an economically viable decarbonisation of the H&C sector in urban areas (see: Heat Roadmap Europe 4).
Eight European cities together with the Centre for Sustainable Energy in Bristol, as well as partners from research, private and public associations and the city network ICLEI Europe have developed an open-source online tool designed specifically to simplify and optimise complex network planning processes for local planning authorities.
Despite their potential to integrate renewable sources and increase energy efficiency, the deployment of new, as well as the modernisation of already existing district networks is often hampered by the complex planning processes and a lack of data and capacity. To feed local district energy networks more sustainably and energy efficiently, cities need to identify suitable renewable and excess heat or cooling energy sources, such as industrial complexes, lake water or data centres and connections between them.
The screening and evaluation of all possible networks, supply and building connections and their financial, technical, infrastructural and environmental implications thus represents a time- and resource-intensive task even for the most experienced planners.
Within the EU funded THERMOS project, Warsaw (PL), Islington (UK), Jelgava (LV), Granollers (ES), Cascais (PT), Berlin (DE), Alba Iulia (RO) and London (UK) have developed a tool for identifying the best heat-network options in cities directly online through the open-source THERMOS software accessible via standard web browsers.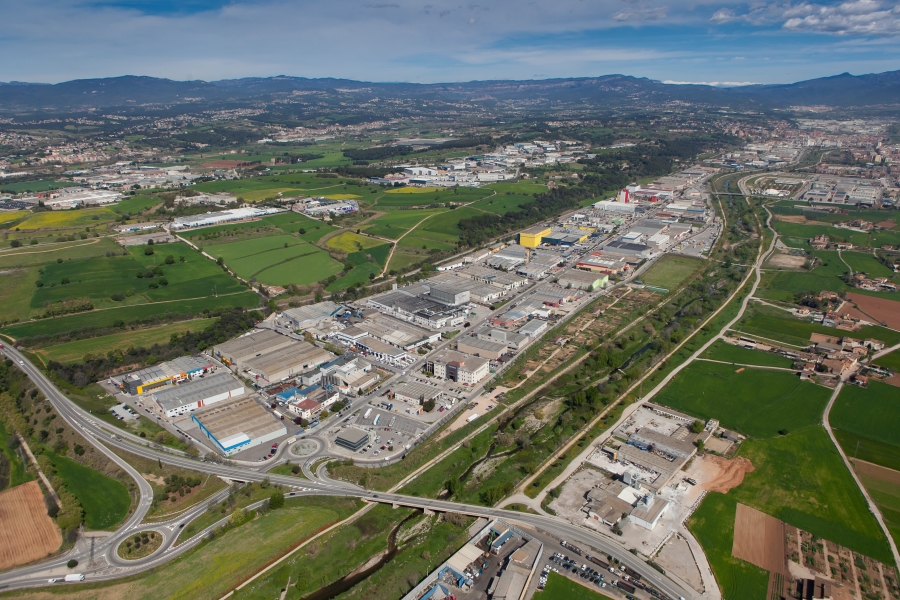 Granollers, Spain: The THERMO pilot city is conducting a pre-feasibility study with THERMOS to supply selected buildings in the EcoCongost industrial park with energy from local biogas production (Credits: Granollers Mercat EPE)
With the aim of accelerating the deployment of energy-efficient, low-carbon district energy networks, the software is designed to make planning not only simpler but also more resource and budget efficient for local authorities. Having made the current beta version available on the website, project partners are now exploring test cases with external users taking part in the 2nd project training programme and presented the software at the 2019 UN Climate Conference in Madrid in December.
The results produced during the training proved to be highly promising. Planners were provided with instant high-resolution address-level mapping and built-in energy demand estimations derived from user data or the software's machine learning algorithms for four main scenarios: the optimised expansion of an existing system, the planning of an entirely new system, or for comparing and assessing the performance of a potential network with a scenario without a network.
Thereby, the software produces figures according to each user's criteria for what constitutes an optimised solution, for example, CO2 emission reductions, type of technology, local energy costs, or investment budget.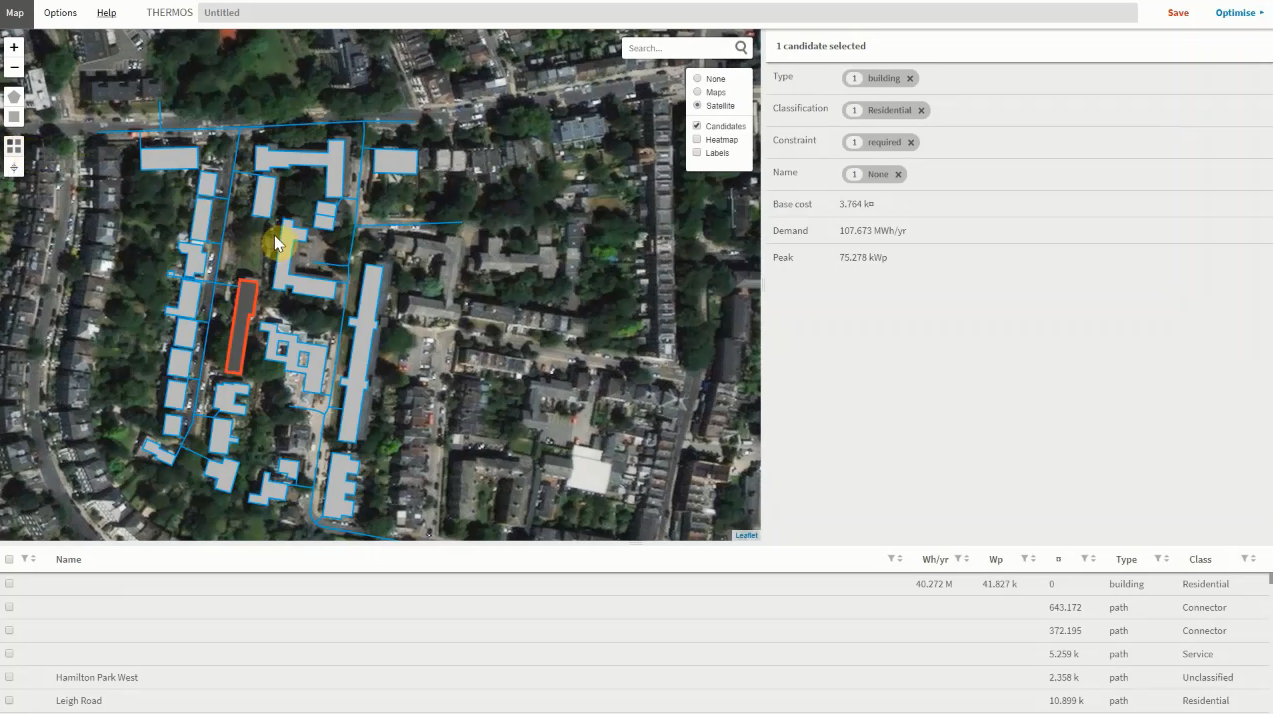 Screenshot of the THERMOS energy planning software interface (Credits: ICLEI Europe)
Project pilot city Warsaw, operating one of Europe's largest district heating networks, sees in THERMOS a viable tool to translate its energy and climate targets into practice, given that "Although Warsaw is a city with an already well-developed district heating network, the THERMOS tool is helping us as energy and urban planners, to design and develop networks in line with the ambitious GHG emission reduction goals that we set out in the new Sustainable Energy and Climate Action Plan of the city" says Marta Kęsik from the Warsaw Infrastructure Department.
For Alis-Daniela Torres, Officer for Sustainable Resources at ICLEI Europe, the tool also holds great potential for small and medium-sized towns, for which the complex planning processes are often particularly challenging in terms of staff capacities and expertise. "With THERMOS local energy authorities and urban planners can take sustainable energy planning back into their own hands. By singling out the optimal solution based on their own climate, energy efficiency, sustainability, budgetary and infrastructural priorities and targets, THERMOS is enabling cities to design more targeted, quick and cost-efficient sustainable energy projects while taking advantage of the knowledge of their local energy systems".
In the coming months, the software's interface will be further improved and will receive additional features based on user feedback and test cases from the training programmes.
Amidst rapid urbanisation rates, energy planning practices in cities and towns will be decisive when it comes to whether citizens can be provided with reliable, affordable and sustainable sources of energy. A simpler local planning process taking into account alternative energy sources and context-specific requirements alike could thus make an important contribution to enabling greater uptake of district energy solutions and projects and for bringing down emissions in the heating and cooling sector.
Author: Alexandra Pfohl, Communication and Member Relations at ICLEI Europe.