Major Mayors of Europe - Rafal Trzaskowski
The mayor of Warsaw just recently joined the presidential race in Poland and is set to lead the liberal opposition against the incumbent Andrzej Duda
May 20, 2020 11:30
Anton Stoyanov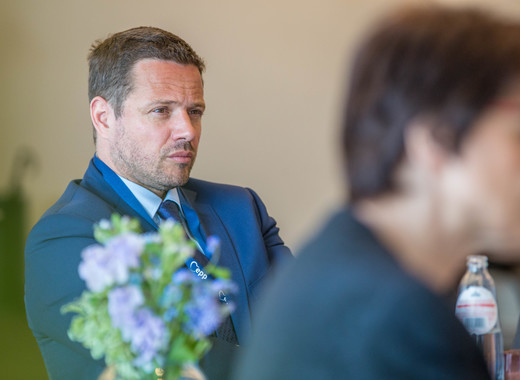 Source: EPP Summit, Brussels, April 2017 by European People's Party on Flickr (CC BY 2.0)
It must be hard to attempt to lead the opposition in a fight against the establishment in a nigh-autocratic regime – and that must be why not many of its leaders can ensure their political survival for prolonged periods of time. With Rafal Trzaskowski joining the presidential race just a couple of weeks ago, will the mayor of Warsaw be faced with a similar fate as his predecessors?
Who is Rafal Trzaskowski?
Rafal Trzaskowski, born 17 January 1972, can easily be considered a model European. Having graduated from the College of Europe and having studied at Oxford University, the European Union Institute for Security Research and the University of Warsaw, it is apparent that his path would always take him to the highest echelons of political power not only in his home country of Poland but in Europe as well.
He first began his career at Poland's Office of the European Integration Committee and then went on to become an advisor for the country's main centre-right liberal party Civic Platform at the European Parliament. That, in turn, allowed him to position himself to be elected on that same party's list as an MEP in 2009.
Just a short while after his election, Trzaskowski also began his foray into his country's domestic and local politics. In 2010 he worked on Hanna Gronkiewicz-Waltz's campaign for mayor of the Polish capital of Warsaw, which saw her reelected for yet another term after she won it for the first time in 2006.
Climbing higher and higher
In 2013 Rafal Trzaskowski was appointed Minister of Administration and Digitization of Poland and later on became Deputy Minister of Foreign Affairs and served in various other roles in the Donald Tusk cabinet.
In 2016, he was elected a member of the Polish parliament (the Sejm) and served as Shadow Foreign Affairs Minister in the Civic Platform's Shadow Cabinet. The following year, he became vice-chairman of Europe's dominant centre-right group – the European People's Party (EPP).
Finally, in 2017 it was revealed that he would attempt to succeed his former boss Hanna Gronkiewicz-Waltz as mayor of Warsaw after she ended her long tenure as mayor of the Polish capital in 2018. He handily won that race with over 56% of the vote in the first round and has made the city into one of Poland's bastions liberalism and liberty in an increasingly hostile and autocratic conservative regime. He has proven himself as not only a defender of personal liberties but also as one of the few remaining politicians who people in Poland recognize as a modernizer and bringer of change in an increasingly stagnant and regressive political environment.
Changing horses mid-race
Just a couple of weeks ago, on 15 May, Trzaskowski was chosen to be the Civic Platform's candidate for the Polish presidential election. "But hold on", you might say, "that election was already scheduled and held on 10 May" – and you'll be right, in a sense.
The governing Law and Justice party and the incumbent president Andrzej Duda did quite literally everything they could in order not to postpone the presidential vote despite the ongoing coronavirus pandemic. Much like other countries who chose to hold their own bouts of elections, the Polish government bet that all would be fine and just as legitimate if everyone just voted by post – making use of the fact that many of the voters who would not be able to vote via a postal ballot were for the most part young people with liberal tendencies who wouldn't vote for them anyway.
The confusion surrounding the vote and the ongoing crisis dismantled the Civic Platform's electoral machine. On the one hand, its then-candidate Małgorzata Kidawa-Błońska and her team were left in limbo as to whether there will be a vote in the first place and were forced to put her campaigning on hold not only due to said confusion but also due to the restrictions placed by the government on public life. On the other hand, precisely those restrictions allowed pretty much only the government to have a media presence as they were the ones responsible for handling the pandemic – thus they had the perfect opportunity to keep on campaigning while none of the opposition parties were afforded the same chance.
With her poll numbers dwindling and with the entire campaign going up in flames, Małgorzata Kidawa-Błońska was forced to step down from the Civic Platform's presidential ballot after the ruling Law and Justice party suffered a defeat of its own, just a couple of days before the vote, when international and domestic pressure forced them to reassess their decision on actually holding the election (the elections were still held in theory, but no polling stations were open and the results were meant to be annulled by Poland's Supreme Court).
In comes the liberal
Suddenly, finding themselves with a new lease on life, Civic Platform immediately decided to completely shift their approach to the election. Seeing how polling numbers suggested that their previous candidate never had a serious chance of beating the Law and Justice incumbent, the main opposition party now had the opportunity to remedy the mistakes of the past.
And that is where Warsaw's mayor Rafal Trzaskowski comes into the picture. He was chosen as the Civic Platform's presidential candidate on 15 May to run in the elections – despite there being no date for them and despite the still murky situation.
Trzaskowski encompasses pretty much everything that the Law and Justice party has aimed to stifle during its years in power. He is extremely popular in the country's largest city and capital of Warsaw and has a track record of defending liberal positions that are often at odds with hardline conservative voters mostly located in Poland's countryside. He has also been attacked on several occasion by the Polish Catholic Church and has been public about his defence of liberal values, freedom of speech and LGBTQ+ rights that have all suffered under the current administration.
A fighting chance
Thanks to the Law and Justice's bungling of an election with a pretty much predetermined result, opposition parties in Poland suddenly once again stand a fighting chance against the government's monolithic power structures.
Furthermore, Trzaskowski joins yet another progressive mayor in the race for president, namely Robert Biedron, the former mayor of Slupsk who has done his own fair share in shaking up the country's leftist opposition.
With two liberal mayors standing in these elections, it is now almost certain that at least one of them will face Andrzej Duda in a run-off (if the election actually even reaches a second round). Everything, however, lies in the hands of young voters and those living in large cities -as they are the only ones who can overcome the rural entrenchments of the governing Law and Justice party.
TheMayor.EU stands against fake news and disinformation. If you encounter such texts and materials online, contact us at info@themayor.eu