Budapest

Mayor
Karácsony Gergely
Previous mayors
Biography
Brief history
Some of the first settlers on the territory of present-day Budapest were the Celtic tribes. Later, the town was inhabited by the Romans. They built amphitheatres, Roman baths, houses, and military camps. Later, the Hungarian tribes expelled the Bulgarian population from the towns of Buda and Pest and founded their new Kingdom of Hungary in the 9th century. In 13th century the city's defense walls were improved so that they could withstand the attacks of hostile nations. In 1526 the Ottoman Empire conquered the town of Buda and it fell under Ottoman rule for the next 150 years. The unconquered Western part of the country was declared territory of the Habsburg Empire. The 19th century was marked by struggle for independence but in 1867 the Austro-Hungarian Empire was formed, and after six years the cities Buda and Pest were merged into one - Budapest. The city was largely destroyed during the two World Wars and the Hungarian Revolution of 1956. In the 20th and 21st centuries Budapest recovered from the damage and began its development towards the prosperous European city it is today.
Budapest is the capital of Hungary and has a population of 1 759 407 people. The area of ​​the city is 525sq.km. It is one of the most densely populated cities in the European Union. Budapest is both a city and a county where 33% of the nation's population lives. Budapest's metropolitan area produces 46.9% of the country's gross domestic product. The capital is divided into 23 administrative areas, marked with Roman numerals.
City Hall

1052 Budapest, Városház u. 9-11. "F" Building - I./121.
The capital is a leading Alpha global city, Hungary's political, financial, educational, cultural, technological, media and fashion center, with Europe's second fastest-growing urban economy. It is based on banking and finance, commerce, transport, infrastructure, fashion and art.
Budapest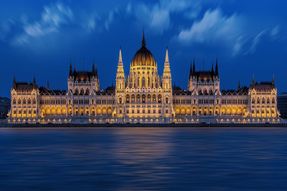 Source: Pixabay
Budapest is deemed as one of the most beautiful European cities. This makes it an extremely popular tourist destination, visited by more than 4.4 million tourists every year. The most notable tourist destination is the neo-Gothic building of the Parliament, but the city also boasts many museums, cathedrals, squares and parks. There are three churches, six museums, and many interesting buildings and streets in the Buda Castle area. Tourists can also visit one of the seven islands in the Danube River, some of which can be reached only during periods of drought or when the level of the river is low.